Formula 1 has always been the epitome of car racing in Europe, even though these vehicles have less in common with an average car than a grizzly bear does. Like every year, this season's racing ensemble is featured in an F1 game that tries to perfect the sport's virtual iteration. Interestingly, the developers decided to skip the next-gen version of the game and focus on a PC/X360/PS3 release, while cooking up a next-gen formula game below the surface. Indeed, there are two F1 games currently in development, and one of them should be ground-breaking once it's out. For the time being, however, let us take a gander at what this year's Formula 1 game is going to be like.
With a preview copy at hand, I delve upon the mystery that is the institution of F1. Hah, no. Who doesn't know everything about it by now? There are the funny looking race cars, the superstar drivers and the old men calling the shots – there's nothing more to it. Oh but there is. Stephen Hood, the creative director of this long-lasting series, claims that this is the year everything about the sport changes (hopefully not literally), and these changes are obviously going to be reflected in this year's iteration of F1. To quote Hood:
"There's been a dramatic shift in the sport; the largest shake up in the rules and regulations for a very long time and the new power units provide a very different kind of challenge, for both driver and team. By delivering all of these changes, F1 2014 will make for an exciting and refreshingly different experience. Additionally, with the new driver evaluation system analysing each player's skill level and suggesting appropriate game settings, plus re-graded difficulty levels including a brand new Very Easy setting, we aim to deliver a thoroughly rewarding F1 experience for players of all abilities, from the novice to the seasoned pro."
With that in mind, let's take a look at the game's visual side before getting down to the gameplay itself. Those of you who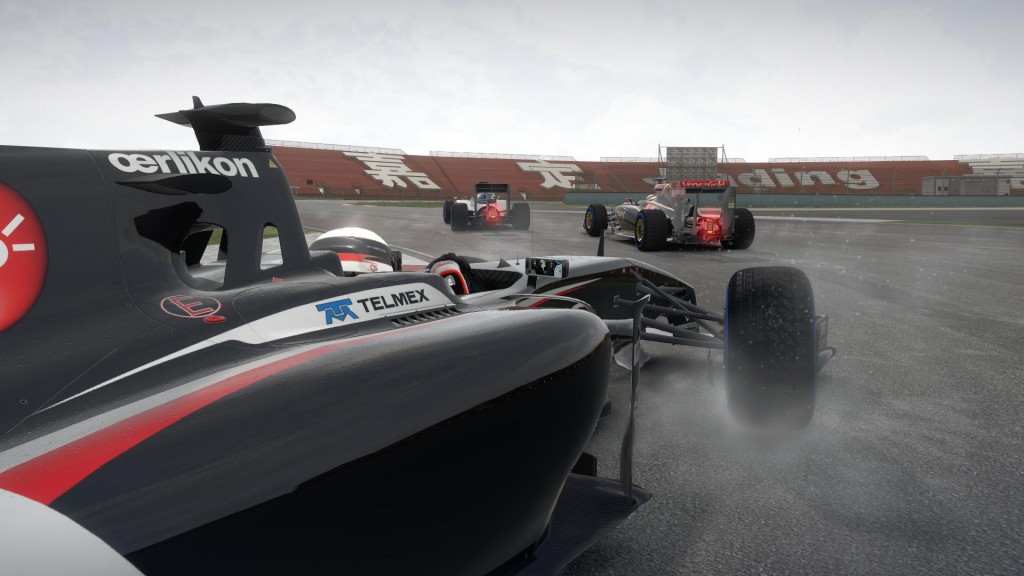 follow the spectacle of F1 will immediately notice that nearly every car has a slightly different chassis. Namely the nose of the vehicle and its spoilers. This left me with a great initial impression, because even though these changes are minimal, the team took their time to mimic them to great detail, thus making the gamers that are also F1 enthusiasts doubtlessly a bit happier about the upcoming racer. Visually, the game looks like a substantial upgrade to the last year's iteration, but only at its highest settings. This is mostly thanks to the impressive weather system that makes driving in the rain a terrifying task, but the post-processing is also pretty great. One of the bigger improvements is also in the field of reflections, whereas they look darn realistic this time around. Lens flares, motion blur and bloom effects make every scene that much livelier, and brings the game's visual quality worryingly close to photo-realism every once in a while. All in all, an impressive display of what the engine's capable of, as well as of the developers' efforts in making 2014 the best F1 game yet.
The sounds are just as good, quality-wise. Engines sound appropriately powerful and induce awe if you have a good enough sound setup. Nothing short of the real deal, I assure you. Subtle nuances between the sound of, say, a Mclaren and a Lotus can be heard if you know your way around the engines. But it's not just the engines you'll be listening to in F1 2014. The crowd, the rainfall, the occasional thump of one car touching another – it's all there, giving us layers of goodness to uncover during the gameplay. Or simply enjoy the whole thing without worrying about all the technicalities.
Of course, pretty visuals and nice sounds won't make do if the gameplay can't hold its own. After all, what more can an avid F1 fan ask for if not for a great formula-based racing sim? It's a good thing then, that this year's edition provides a whole slew of content to entertain players for a pretty lengthy deal of time. There are the proving grounds, for example, that encompass time attack game mode and its likes, as well as the old favourite that is the Challenge mode. I tried diving into the mind of Sebastian Vettel during his duel with Alonso a couple of years back, and the setup does remind heavily of the given event. The only difference lies in the fact that you'll always be driving this season's vehicles, as there's no vintage mode this time around, sadly. As far as pure gameplay goes, F1 2014 is one of those racers that are going to be just as difficult as you want it to be. Perfecting your times is going to force you to learn routes to the slightest curve. You will also have to turn off all artificial helping systems (of which there are many), as these inhibit your control over the vehicle. But you might not want to do that if you're playing on an ordinary keyboard – I heartily recommend using a dedicated racing controller with this game. The driving feedback is simply masterful and can only be improved by the time F1 2014 goes gold.
Summa summarum, F1 2014 is going to be an awesome addition to what is already a quality-driven title. The omission of vintage races might be a boon to some (me included) but this may be compensated with the campaign… to which I currently do not have access. There is the question of whether people who bought last year's F1 title will be interested in the upcoming iteration of the famous franchise, but I'll wait to carry out the judgment once the game goes gold. For now, everything is looking pretty pink.